!!!FINAL WEEK OF THE 90 DAYS TO ELLEN CAMPAIGN!!!
On Friday, we held open auditions for an Ellen "stand-in" (watch the "behind the scenes video). I mean, while we don't hope this is the case … it is POSSIBLE that Ellen and/or someone from her team does not contact us. But we WILL have lunch with Ellen DeGeneres (or "Ellen").
But have no fear. Even though you missed the open auditions on Friday, there's still time to submit your Ellen "stand-in" video. Simply create a short video telling us why YOU would be a good "stand-in" for Ellen … to have lunch with us … and submit it on this page.
As we shared in yesterday's post, Lara Baker was our first online audition for an Ellen "stand-in." She set the bar quite high.
However, Bernie did a nice job in his live audition on Friday. Very different approach … a bit more "chill" and laid back. Also, our first male audition! Check it out: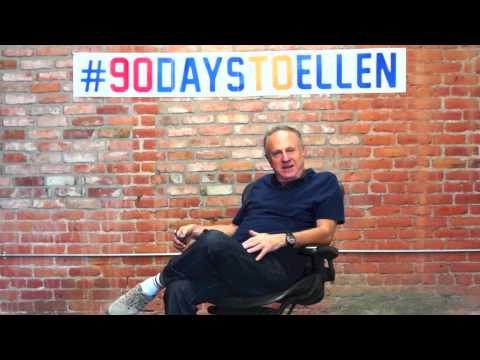 Can't see the video? Try watching directly on YouTube.
I mean, Bernie … right? Just amazing. Do you think he's make a good Ellen "stand-in" … should we not hear from Ellen in the next week? If so, tell us on Twitter!
To recap: So far the possible Ellen "stand-ins" are:
A: Lara Baker
B: Bernie
Who do you think is the better "stand-in" … assuming we do not hear from Ellen or her team? Let us know in the comments below.
We will be posting additional audition videos throughout the week.
REMINDER: On Saturday, we'll open up voting for the best Ellen "stand-in" video. Again, if Ellen and/or her team contacts us before the #90DaysToEllen campaign is over – at midnight PT on Monday, August 26th – we'll be having lunch with Ellen (OF COURSE!). However, if we don't hear from Ellen or her team, we'll be going to Plan B – an Ellen Stand-In!
Stay tuned. Keep your fingers crossed. Keep sharing.