!!!FINAL 2 DAYS OF THE 90 DAYS TO ELLEN CAMPAIGN!!!
The ALMOST FINAL Ellen "Stand-In" Audition Video!
In case you missed it, on Friday, August 16th, we held open auditions for an Ellen "stand-in" (watch the "behind the scenes video). Just in case Ellen and/or someone from her team does not contact us before the end of the day on Monday, we need to pick an Ellen "stand-in."
First there was Lara Baker (view her video).
Next was Bernie (view his video).
Then there was Mark (view his video)
Today is "Dancing Sarah."
Girl's got moves, right?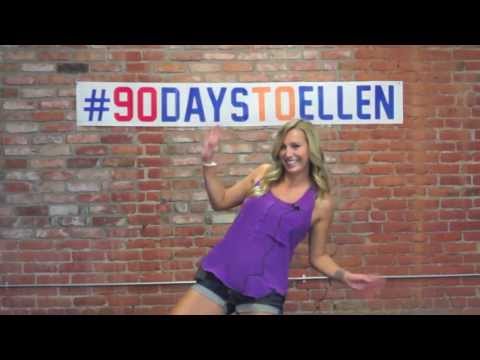 Can't see the video? Try watching directly on YouTube.
To recap: So far the possible Ellen "stand-ins" are:
A: Lara Baker
B: Bernie
C: Mark
D: Sarah
Who do you think is the better "stand-in" … assuming we do not hear from Ellen or her team? Let us know in the comments below.
REMINDER: Tomorrow is the last day of #90DaysToEllen. We're still holding out hope!
Keep your fingers crossed. Keep sharing.